The world runs on apps and boaters more so than others. Some are useful, some fun, some expensive, and some ridiculous. Whatever you can think of, there's probably an app for that. Boating is no exception and dozens of apps are vying for memory space on your smartphone. We have curated some great boating apps that are worth the money, especially since some are free. 
 VesselView Mobile App
If you have a Mercury engine made in 2004 or later, here is an app (free) and a Bluetooth module ($275) that will make your life easier.
Boating's test team uses the device to capture performance data on Mercury engines because it is clearly efficient and the epitome of plug-and-play hardware. For more information, see mercury.vesselviewmobile.com; $275.
West Marine Waterlife Pandora Station
Pandora is not new, but this version of West Marine's dedicated station is. Waterlife provides boaters with endless hours of tunes that evoke the boating lifestyle, from Jimmy Buffett to Zac Brown to Bob Marley. Play it through your phone or tablet via a Bluetooth connection to your boat's stereo and rock out or relax. For more information, go to pandora.com/westmarine.
U.S. Coast Guard Mobile App
Use this app to look up all the pertinent boating safety info for your state. The app provides a lot of important information and services, including a safety equipment checklist for your boat. You can also request a free safety check for your vessel. Taking a short trip or a long cruise? File an official float plan that your friends and family can see too. Need to brush up on your navigation rules? They're in the app. If you're on a cruise and you spot a previously unreported hazard to navigation, you can use the app to report it. You can also report pollution or suspicious activity and get up-to-date weather reports from the National ­Oceanic and Atmospheric Administration weather buoys that are closest to you.
INavX
I downloaded this on my phone and used it on my expedition to Alaska (see "Cruising the Bering Sea"). While I never used it as our primary source of navigation, it was great to have on board to use in conjunction with the boat's electronics.
How did it work? This may be the most powerful, seamless navigation app we've tested on a smartphone. Download NOAA raster charts and navigate by contours, markers, and all the detail you'd expect on a chart plotter. Set a course and navigate to it. A navigation bar provides data, such as speed over ground, course, ETA and more. Here's the deal maker: INavX even allows you to download and overlay weather radar, satellite SSTs, and other GRIB data at will. It's a revelation to use on your phone or tablet. $24.99; inavxcomRandy Vance
FishWeather
Wind is the bane of most boating anglers, especially those with craft under 30 feet in length. Getting caught in howling winds far from shore can threaten the safety of your crew and result in a long, slow, sloppy ride back to port. Wind forecasts help in avoiding the worst winds, and the more localized and detailed the forecast, the better.
>That's where FishWeather excels. This mobile app offers access to ­Fish­-Weather's exclusive weather station network and crowdsourcing, plus 50,000 other weather stations around the world. FishWeather covers lakes and rivers, as well as ocean and bay wa
While FishWeather lists current winds (speed, direction and gusts) and waves (height, direction and frequency) in real time, it is the short-term forecasts for specific locales that I really like. These proprietary hour-by-hour forecast models have proven very accurate in terms of wind speed and direction, giving me the guidance to pack it in (if the forecast calls for strong winds) or the confidence to fish longer (if the forecast is for mild winds).
FishWeather gives you the ability to pan around its map of weather stations to compare forecasts from area to area that give you an idea of localized winds. The more you zoom in, the more weather stations appear.
Download it at the App Store for iOS devices or Google Play for Android devices. -Jim Hendricks
Garmin BlueChart Mobile
On the docks , scuttlebutt has long held that Garmin is the master at making marine electronics "intuitive" to use. This app lends credence to that legend. Garmin BlueChart Mobile was the quickest to learn by punching around on the buttons and menus and the easiest to use once we'd familiarized ourselves. All navigation functions one would expect are available on Garmin BlueChart Mobile. The Active Captain function allows online interaction with the boating community, with social updates pertaining to marine services (such as marinas and fuel docks), waypoints, hazards and more. An upgraded weather option is also available, giving nearly real-time radar when Wi-Fi is connected.
Noted: Tap the navigator's dividers to establish waypoints and move each to mark and measure distance between them. Tap the seas icon for wave height readings and current velocity.
Charts: To $50
Subscriptions: Active Captain
Wi-Fi to Chart Plotter: Yes, routes and trip plans
Android
Not available
Apple
Price: Free
Rating: 3 stars (163 ratings)
Current Version Tested: 1.4.1
Size: 117 MB
Requires: iOS 6.0 or higher

Skipper
The free version of the Skipper app was pretty good at basic navigation, but we found the subscription version well worth the $9.99 per year Skipper charges for it. With this, the least expensive app we tested, you can download any and all NOAA raster charts, set waypoints, create routes and adjust those routes and waypoints by dragging and dropping them around on the screen. We especially liked that the trip monitor bar at the bottom of the screen can be customized to display a variety of essential navigation data, such as course, heading, speed, current speed, ETA, position, etc. Google satellite maps are overlaid on raster charts, providing the user with a landlubber's detail in addition to all the nautical navigation information.
Noted: The system uses only NOAA raster charts, scans of NOAA paper charts, instead of more modern vector charts — yet many captains prefer the comfort of the traditional paper look. The screen updates slowly on our early-version iPad.
Charts: Free
Subscription: $9.99 per year
Wi-Fi to Chart Plotter: No
Android
Not available
Apple
Price: Free
Rating: 4 stars (31 ratings)
Size: 44.4 MB
Current Version Tested: 1.4
Requires: iOS 5.0 or higher

Garmin Quatix 3 and Garmin Connect App
If a smartwatch is on your radar, don't jump until you've looked at the Garmin Quatix 3 Marine GPS smartwatch and the Garmin Connect IQ app. More than a watch, it combines powerful boating with multisports widgets and text, email and social notifications, along with audible and vibrating signals. Wirelessly connect to your Garmin navigation suite to stream location, sonar depth, water temp or any engine data. The Quatix 3 is waterproof to 328 feet, and it's impressive battery power keeps it running up to 20 hours in GPS mode, or up to six weeks in watch mode, without charging. The onboard three-axis compass and altimeter make it the ultimate personal-navigation device.
The Garmin Connect app captures workout data and steps and stairs climbed, giving an hourly update of your fitness efforts. Widgets enable snazzy watch faces, navigation data and cool weather notifications that keep you apprised of changing conditions with a vibrating alarm. It's a durable, smarter choice for boaters and anglers — especially when you see the current tides right on your casting wrist. $599 for Quatix 3; app is free; garmin.com. -Randy Vance

Garmin ActiveCaptain
If you already own a Garmin chartplotter, or plan to purchase one, ActiveCaptain is a great one to try as it's designed to connect with the Garmin chartplotter. You can purchase new maps, save routes and waypoints and connect with fellow boaters.
The free all-in-one ActiveCaptain™ app provides a powerful connection to your Garmin chartplotter, charts, maps and the ActiveCaptain community for the ultimate connected boating experience. Wherever you are, you'll have unlimited access to your cartography, be able to purchase new maps and charts, and have access to the Garmin Quickdraw™ Contours Community. Connect to the ActiveCaptain community for up-to-date feedback on marinas and other points of interest. Smart notifications¹ on your chartplotter screen keep you connected with everyone else. Plan a trip or pre-fish a lake, and ActiveCaptain will automatically sync with your chartplotter. Even view and control your chartplotter from your smartphone or tablet while you're on the water.
This app is not recommended for non-Garmin chartplotter owners and is not intended to be a standalone navigational app. The included basemap is not useable without purchasing additional charts/maps.
- OneChart™ lets you access all your Garmin unit pre-load and accessory card charts and maps from your mobile device and purchase new ones
- Receive smart notifications¹, such as calls and texts, on your chartplotter display when paired with the app
- Connect to fellow boaters with the ActiveCaptain community for up-to-date feedback on marinas and other points of interest
- Make, save and transfer routes and waypoints between the app and chartplotter
- Easily upload and download the latest Garmin Quickdraw Contours content from the community
- Download software updates and notifications from the app to your Garmin devices
- View and control your chartplotter from your smartphone or tablet
This app is free, though there are some in-app purchases. It's available at Google Play and iTunes.
Snag A Slip
Whether you're planning a trip or you're already out on the water, Snag A Slip lets you find marinas and reserve slips right from your phone. Marinas across the U.S. and Canada to the Caribbean can be found with the swipe of a finger. You can store your boat's information to make booking even easier.
The app is free for Android and Apple devices.

BoatUS
Just in case of that dreaded breakdown or prop problem, BoatUS is a great app to have when you need a tow. The dispatch is available 24/7 and can find your location via the GPS on your phone.
You can also check tides, weather conditions and forecasts. If you're going to have any app at all, I highly recommend this one.
It's free and available on Google Play and iTunes.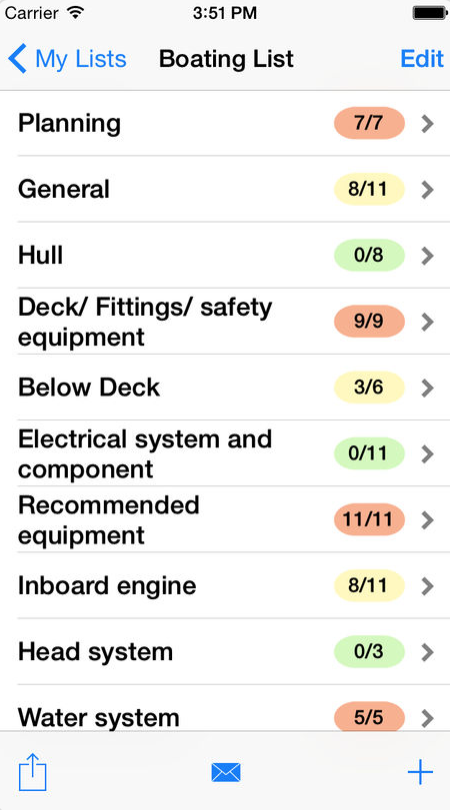 Getting your thoughts together when planning a day out on the water can be stressful and overwhelming. Get the peace of mind with this app. It comes pre-loaded with 340+ boating trip related items that are completely customizable to your needs. - by Jimbl Software Labs, LLC
Available for $0.99 on iOS devices


This app not only lets you track your boat's location (for example, if you are letting family or friends use it), but it also helps you keep detailed logs of your boat's engine and sensor data - by Boatster LLC
Available for free only on iOS devices
One of the best trip-planning apps for boaters, Dockwa not only lets you research marinas for your next cruise, but it also lets you reserve your slips through the app – free of charge. Dockwa is now nationwide, including the East Coast, Great Lakes, and Southern California.
Available for free on iOS and Android devices
This highly popular app provides fishing forecasts and helps you to discover new fishing hot spots, baits, and tackle. You can track your catches and share them with other anglers.
Available for free on iOS and Android devices
AyeTides
Knowing the daily tides (the depth of the water at any given place) and currents (the speed and direction of the water's movement) can be essential for a boating excursion. AyeTides provides this important information for nearly 10,000 locations worldwide in tables and interactive graphs. You can check what will be going on today or well into the future. AyeTides also tells you when the sun and moon will rise, and how the moon affects the tides.
The app costs $9.99 to download, but once you have it, you're good to go. The information is contained within the app, meaning you don't have to worry about downloading data for certain regions. Nor do you need a network connection to use it. You can access AyeTides wherever you go.
The moon and tides are somewhat predictable. But weather is less so, and changes in the weather can have immediate effects on your boating excursion.
Available on iOS (not available on Android devices)
WINDY - wind, waves, tides forecast and local communities for wind sports and outdoor activities.
If you are a kiter, surfer, sailor, fisherman, windsurfer, paraglider, skydiver or any other wind lover/ hater - this app is for you! WINDY is also a beautiful hurricane tracker. Watch the hurricane thru Windy and be safe!
FEATURES:
Beautiful animated wind map with HD mode Global 1- and 3-hours wind and weather forecast for the next 10 days (GFS 27) Waves and tides Real-time wind data from weather stations Lots of different spots rated by popularity to search and to explore Useful chats for getting in touch with locals Wind barbs on the map for sailors 10 Days Forecast history SNOW PROFILE: temperature at the top/bottom of the slope and information about skiing spots. Compare precipitation forecasts on one graph to plan your best snow ride. Kite size recommendations based on wind forecast Weather history (archive) for 2012-2018: view wind data, temperature (day and night) and atmospheric pressure. Weather archive will help you to choose the best month for travel to the spot. Special offers on spots - all discounts on equipment, lessons, accommodation and more!
Free & Paid version - Available on iOS

Boating enthusiasts know that owning a boat can become nearly a full-time job. If you're not careful, you can spend so much time and money maintaining the boat that there's hardly enough of either left to enjoy the boat. The other alternative can be just as bad – if you don't pay enough attention to maintenance, you can find yourself in big trouble.
Boating Suite, a $4.99 app, won't pay the bills for you, but it will make it a lot easier to keep track of what you do with and to your boat, and how much you spend.
Really several apps in one, Boating Suite provides a digital logbook for recording all your voyages. Five other sections let you keep track of maintenance, fuel use and expenses, as well as make lists of what you need to buy and what you need to do. There's also a "reports" feature, enabling custom reports on such information as how much it cost you to own and operate your boat over a set time period.
Boating Suite is backed up automatically by iCloud, so that you know your information is safe online. Information also can be synced on various devices.
<>
This popular app, developed by Garmin company Navionics and billed as the "World's #1 Boating App", delivers GPS chart plotter-quality navigational charts to your smartphone or tablet. SonarChart, an HD bathymetry chart service, also is available for anglers. Available with a two-week free subscription, after which you need to subscribe to get chart updates. In-app fees for charts also apply.
Navionics was a pioneer in providing digital marine charts for boaters, and now it's also a leader in providing navigational information apps that provide those charts along with other useful information and features. It offers iPhone apps for various regions, including oceans and lakes, around the world. The most popular is Marine&Lakes: USA, available for $9.99.
Once loaded, the charts are available for use even if you're beyond the reach of wi-fi or phone signal. Marine&Lakes: USA gives you charts to map out your trip, as well as information on tides, currents, winds, the sun and the moon. You can edit your charts to add information about such details as rocks, lights and buoys. The app also tells you where to find marinas, repair shops and restaurants, among other things, and you can edit that information as well.
The app even provides free downloads of articles from leading marine magazines.
Want to share your seafaring adventures with family and friends? This app lets you create a virtual travelogue and send it by e-mail or post it on Facebook.
This app is fantastic for boaters, especially if you have Amazon Prime (hello, two-day delivery). With this app, you can shop around for boat gear, accessories, apparel, and novelty items. Not only can you shop, but with your Amazon Prime membership, you can listen to music ad-free and download movies to watch while on your boat.
Available for free on iOS and Android devices
Sources
---
---